Alison Booth is Head of International Affairs at ClickThrough. Find out more about Alison's journey in marketing and how ClickThrough has helped achieve her goals.
Alison Booth is Head of International Affairs at ClickThrough. She joined us as Director of Paid Search and, after identifying the opportunity for an international specialist position, is now using her language skills and interest in international business to deliver multinational campaigns to our clients.
time with click: 9 years
Join as: Paid Search Manager
The current role: Head of International Relations
Total roles in ClickThrough: 4
A talent for languages ​​(and business!)
I made a conscious decision to pursue languages ​​and business very early on. After completing A-levels in Business, German and French, I planned to get some hands-on experience using my language skills, so I had a year before going to uni, which I split equally between working in the accounts department at the French company Lyreco first and second in Luxembourg where I worked at Euro Camp as the Campsite Courier Company.
I was keen to learn Spanish, as I felt it would be of professional value once I finished university, so I shifted the focus of my language studies to German and Spanish. My degree in Languages ​​for Business was a 4-year course with a year abroad. Therefore, I spent my third year studying at La Universidad de Cadiz and worked in the translation department at MAN Turbomaschinen in Oberhausen, Germany.
My passion for marketing stems from the level "a" for Business Studies where you studied the Marketing Unit. This was activated in Spain where my course included Marketing, so I had the best of both worlds, improving my Spanish as well as studying Marketing! My first role after graduation was a German speaking customer service position – while it was great to use my language skills, I wasn't satisfied. I was more interested in looking at how the business was created, and how processes and strategies could be improved. At this point, I realized that a marketing role would be the best way to combine my interest in business and my love of languages, so I found my first role in marketing, as a marketing assistant at the German engineering firm Denius. I went to the agency side in February 2008, and joined Netbooster as they were looking for marketers with German and Spanish skills. It was my first opportunity to use my language and marketing skills for multiple brands instead of just one.
Building the international section ClickThrough
I felt the move to ClickThrough was a perfect fit, as it was clear that the agency had a real family feel and that I would be working with like-minded people. Also, I felt that everyone was highly professional in their field and that we strive to be innovative for our clients and integrate departments. He. She It was a great opportunity to see how other divisions worked, to understand more about what everyone was doing and how everyone contributed to achieving the company's vision.
I wanted to expand into the digital sphere; My experience has been paid search, but the agency's broad integration at ClickThrough has helped me achieve broader knowledge across channels. It's unique in any agency to be able to work across multiple jobs in a delivery role, and I've really loved being able to carve out this journey. I felt like I had a real chance to prove myself and build an international service that I (and our clients) could thrive on.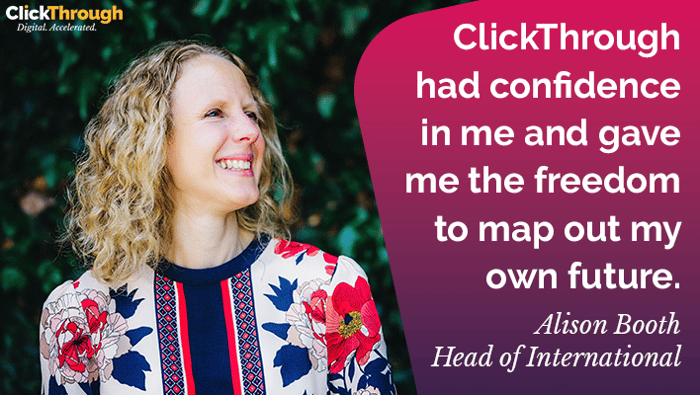 We have always had international clients, but I felt this needed a bit more focus, and I was fortunate enough to be able to seize the opportunity to do this and grow our international presence. I had the full support of my colleagues, which gave me the confidence to follow through and make it a success. I don't feel that other companies will necessarily give you that freedom and enable you to chart your own future.
Becoming a Head of International Marketing
The role of Head of International Department enables me to increase my knowledge of digital marketing and understand more about the opportunities that export brings. Many people may not find it exciting, but I am intrigued with how it helps brands To build a presence in new markets and learn more about the ever-changing international business environment to help them overcome their export challenges.
ClickThrough has greatly supported me in taking over the leadership of a new division, and along with training from suppliers such as Google, I have been able to grow our services internationally. I've always known that if I have specific training requirements, I can always report them to get the support needed.
I feel it is helpful to partner with your colleagues to understand more about what they do and to organically capture some of their knowledge and skills. For a role that ignores multiple disciplines, this was especially important to me and I was able to keep up with other teams in the work to expand my knowledge across channels and make that happen. This is something that ClickThrough really excels at as everyone is keen to share their knowledge and support each other in learning new skills.
The future in ClickThrough
I think we've matured as an agency in terms of how we approach digital marketing and brand building. We've advanced what we deliver at the presentation level and what we can deliver by constantly expanding skills, taking notes from new colleagues, who bring new ideas and knowledge. This has helped us become one of The Drum's top agencies, of which we are very proud.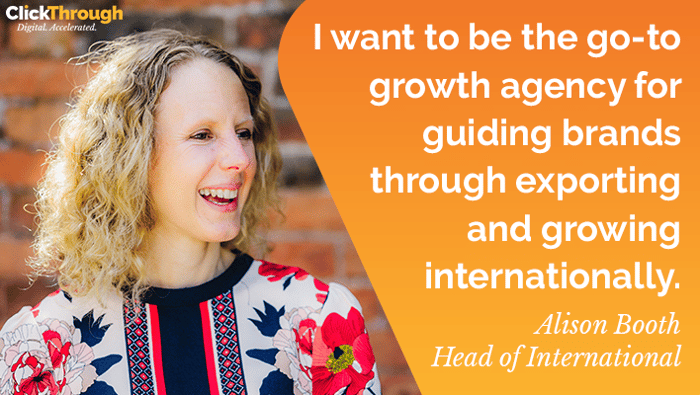 The future at ClickThrough looks bright; We really build on our focus on learning and development. We have always had the culture of learning and the ability to make the case for attending training to enhance our skills. Since our Head of Talent, Ilona, ​​has joined us, I feel this has become more prominent in the business. Having an outside perspective on training that everyone can benefit from is great because it puts the entire company in a learning mindset.
For me personally, and for the international team, I want to expand to as many countries as possible! I want to be a Marketing and Growth Agency to guide you on your journey to export and grow your brand internationally. I look forward to taking on new challenges in a company that supports me and believes in my future vision.
Want to learn more about how ClickThrough can help develop your brand abroad? keep in touch!